What to do
What to see / Nearby
Venetian Pool: the choice of Stars
August, 2014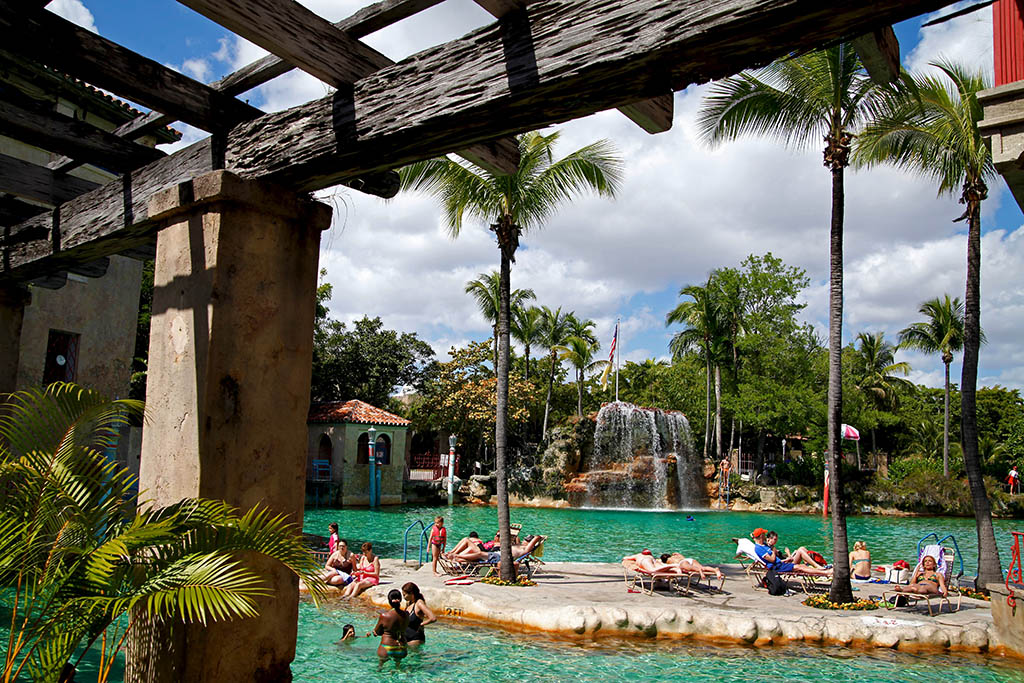 The Venetian Pool in Coral Gables was built in 1923 inside an old, 16.000m2 coral rock cave. It's the only pool in the National Register of Historic Places, and you know what that means…
The place is simply wonderful: a natural pool filled every day with spring water from Artesian wells, adorned with small waterfalls, caves, palms, a little bridge, arcades and loggias.
George Edgar Merrick was the one who wanted the pool and he built it with the help of architect Phineas Paist and artist Denman Fink. His idea was to create a Mediterranean style area and some of the houses around the pool were built in this style with the same rock used for the pool from the coral cave.
As they got older, many famous people attended the pool. First and foremost Johnny Weissmuller (do you remember Tarzan?) and Esther Williams the mermaid of the 50s. The pool was also a stage for authentic "pool concerts": the swimming pool was emptied and the musicians performed inside. In 2001 to celebrate the 75th anniversary of Coral Gables city, the pool concert was staged again. The Venetian Pool was restored in 1989 and again in 2010.
The best thing to do is spend a morning or an afternoon there, but pay attention because when the maximum capacity is reached the ticket office closes. You can also visit it to see old pictures that illustrate the history and splendor of the pool; a visitor's ticket costs 1 USD and it's well worth it.
The pool is at 2701 de Soto Blvd in Coral Gables. It's open from April to September. Opening times are seasonal and range from 10-11 am to 4,30-6,30 pm.
For more info: http://coralgables.com/index.aspx?page=611
The entrance ticket is 11 USD and a beach chair costs 5 USD; there's a little, not very well stocked snack bar. Remember: children under 3 are not allowed and you might be asked to show ID.
If you decide to go, think about having a walk, or a glass of wine in the nearby Biltmore Hotel: one of the most beautiful Historic Hotels in the States.