What to do / Beach
South Beach shore
January, 2017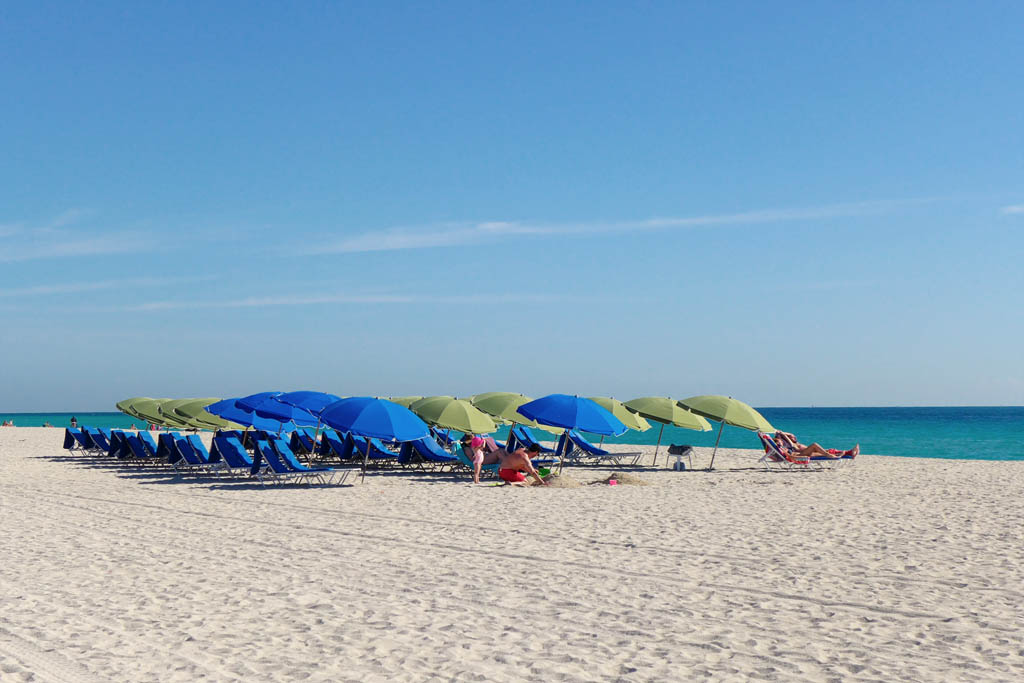 SoBe shore (as locals call South Beach shore) is really great: almost 5 km of white sand meets turquoise water (when the sea is calm). Compared to Mediterranean standards, the beach is wide as well as being long. It borders on Lummus Park promenade, which separates the beach from Ocean Drive; it's the perfect location for any kind of physical activity, as we wrote in another article.
The beach is free almost everywhere, with little resorts that are quite different from ours: there are only beach loungers and umbrellas, and a small wooden kiosk where you can buy drinks, ice creams and sandwiches. If you are close to the hotels you can use their bar services to order cocktails, salads, fresh fruit and other dishes. Anyway many Americans (and not only) opt for a "do it yourself" approach and bring chairs, beach umbrellas, tents, coolers and food from home.
There are different kinds of bathers: Europeans on holiday, American Cubans, Yankees from the north looking for the sun, retired people looking for relaxation, university students… it depends on the period of the year.
Much depends also on the area of the beach: SoBe starts from 1st Street and ends at 23rd Street; in between you can find different worlds. For instance, from 1st to 5th (in the area called SoFy, South of Fifth) there's a mix of surfers and chic customers.
From 5th to 20th the population is more varied: boob jobs go together with beach tennis, elegant ladies walk on the shore close to Rasta guys in their dreadlocks, and groups of noisy teenagers run through groups of standard families. Around 12th St. you find the part of the beach frequented mainly by the Miami gay community. From 20th St. there are private beaches belonging to exclusive hotels, where it's possible, at least apparently, to see some so-called V.I.P.s.
We think the most peculiar thing about South Beach is the lifeguard towers: those wooden sentry boxes painted in bright colors from where lifeguards guard the shore. But we'll write in detail about those shortly.