What to do / Nightlife
Mondrian's Happy Hour: The Real Deal
June, 2014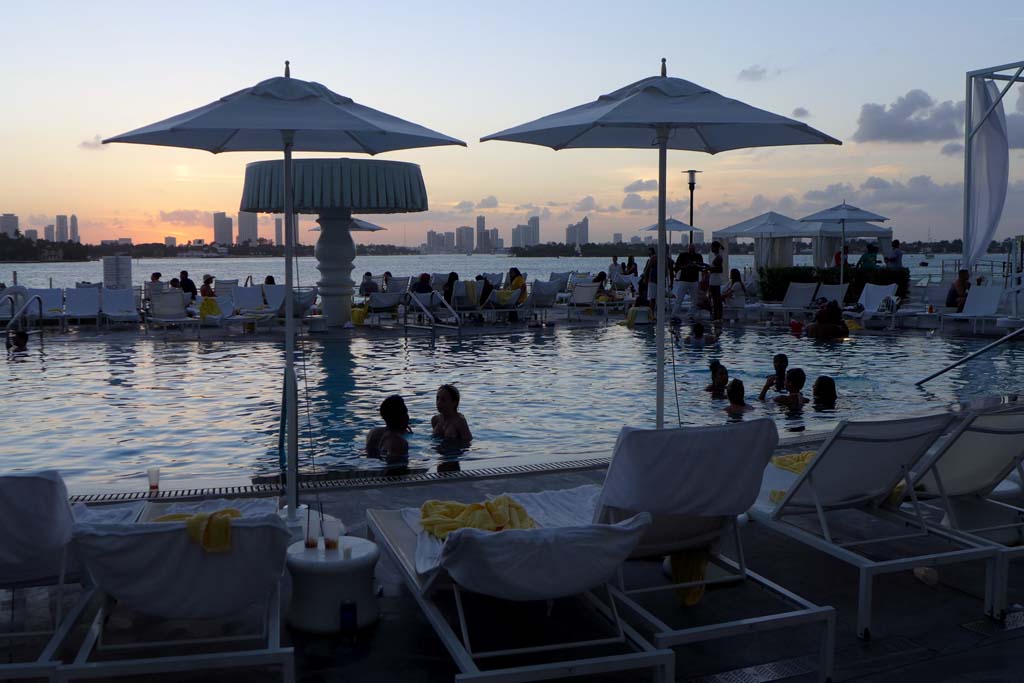 Mondrian's happy hour is tinged in red.
The Mondrian South Beach seeps luxury from the start: the entrance with its enormous golden bells hanging from the ceiling is only a sample of the leitmotif all that decorates the hotel.
Put in this way: it may not sound too charming but we guarantee that the Mondrian South Beach will give you one of the best views in all of Miami Beach. Their swimming pool is also very interesting. Its weak point is its location: it is 1.5 kilometers from the beach and its takes 7 to 8 minutes by car or scooter or a 15 to 20 minute walk.
I'm not sure if to suggest it for an overnight stay. (Although what I have heard about the hotel is good: it has wide rooms, good service, and a rich breakfast.) The happy hour by the swimming pool is an absolute must.
The Sunset Lounge's faces Biscayne Bay and watching the sunset in plain view of the Miami skyline is a wonderful experience…especially if you are sipping a good cocktail and it is even better if you are in good company (as was my case).
Prices are reasonable: around $15.00 USD for a cocktail. If you want to eat something, you can have appetizers at $10.00 USD or something more sizeable for about $15.00 to $18.00 USD.
They seldom organize progressive happy hours with hourly increments: at 5:00 PM drinks cost $5.00 USD; at 6:00 PM, they cost $6.00 USD; at 7:00 PM, $7.00 USD. After 9:00 PM, prices are those made available on the menu.
If you want to day drink by the swimming pool, I have been told that with an order of $50.00 USD per person, you can lounge all day long.
For more information, please visit the Mondrian South Beach.