January / Holiday
What to see / Neighborhoods
Art Deco District: Pastels between the Sea and the Sky
June, 2014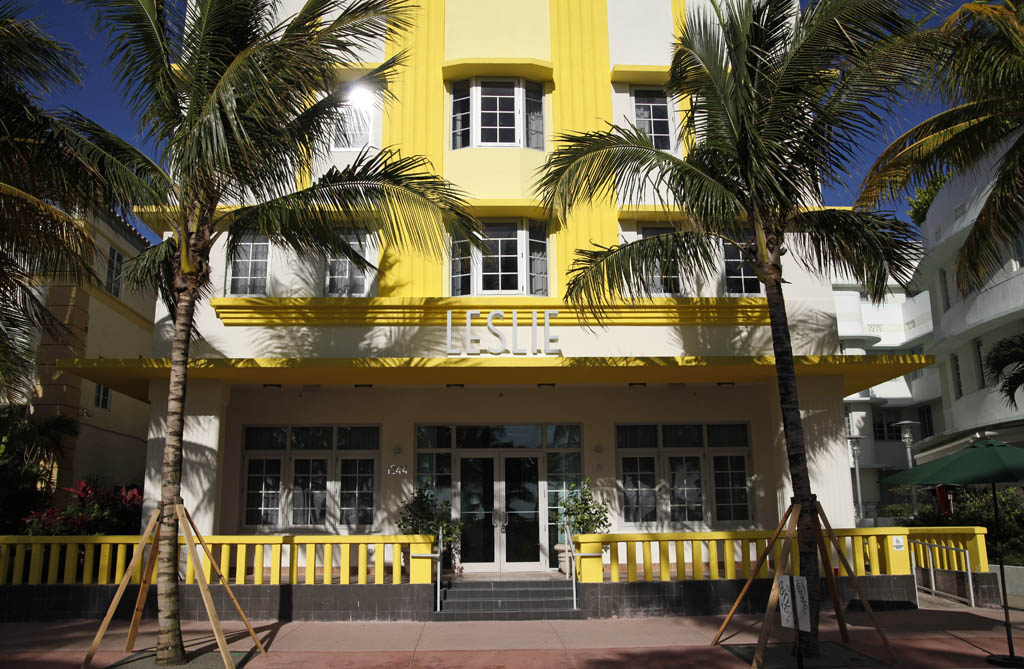 The Miami Beach Architectural District, famously known by its pseudonym, The Art Deco District, is not so much a district as it is an area of Miami Beach that encompasses Ocean Drive, Collins Avenue, Lincoln Road, and Española Way.
Since 1979, it has been part of the National Register of Historic Places in the United States. The Art Deco District has the highest concentration of Deco architecture on the planet. More than 800 buildings, built between 1923 and 1943, are protected by the Miami Design Preservation League, a non-profit organization founded in 1976 by Barbara Baer Captain to preserve these buildings from demolition and illegal development.
Those buildings were inspired by European Deco incorporating Italian architectural elements, like arches, shingle roofs, and wrought iron gates with Spanish gardens and stuccos and North African influence: all buildings are individually customized with ample use of tropical foliage, such as palms, flamingos, pastel colors, nautical lures (particular porthole windows) and other stylistic designs.
Art Deco District includes three different architectural styles: Tropical Art Deco, Mediterranean Revival, and MiMo, or Miami Modernist Architecture, a form of architecture developed in the 1950's, between the end of World War II and the onset of the 1960's. This is not only evident in South Beach but in all of Miami Beach. To read more about this form of architecture, visit MiMO On The Beach.
Walking along Ocean Drive, you can see some of the most prestigious buildings in this form of architecture.
Starting on 5th Street and Ocean Drive, there are
Beacon Hotel South Beach, which looks like a wedding cake;
Cardozo Hotel, property of famous Cuban singer Gloria Estefan;
Casa Casuarina, built in 1930 and Gianni Versace's Miami Beach residence;
Clevelander Hotel;
The Carlyle;
The Colony Hotel;
The Leslie Hotel, painted in a yellow rather than a pastel color;
The Park Central Hotel, built in 1937 and restored in 1987; and
The Tides, built in 1936
Once you leave Ocean Drive, by departing 15th Street, follow all of Collins Avenue and you will be led to the:
The Delano Hotel, a mythical construct that when built was the highest construction in all of Miami;
National Hotel;
Raleigh Hotel, with its legendary pool, made famous by Esther Williams in the 1950s; and
Sagamore Hotel
You can finish with a tour of Lincoln Road, an open air mall, and Española Way, which is little, peculiar, and Spanish-like.
For those interested in deepening their knowledge of Art Deco, 1001 Ocean Drive hosts the Art Deco Welcome Center, where you will find souvenirs, books, and an audio guide.
Every morning there is an Art Deco Walking Tour which lasts around 90 minutes for $25.00 USD per person and a discounted rate of $20.00 USD for senior and students. If you want to take a tour on your own with an audio guide, the price is $15.00 USD and $10.00 USD for seniors and students.
More information, visit Miami Design Preservation League's Art Deco Walking Tour.
Art Deco Weekend is January 16-18, 2015, celebrating the 100th year anniversary of the Art Deco District.