What to do / Shopping
My first time at Victoria's Secret
June, 2014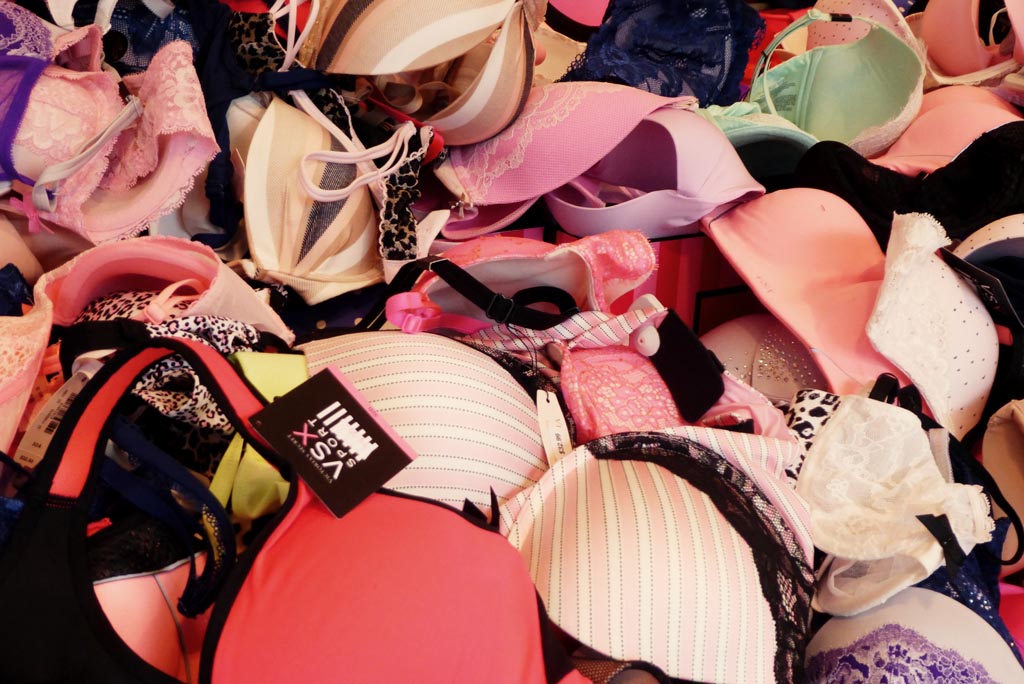 My first time at Victoria's Secret was an unforgettable experience. It was a first day of sales (Although there are always items on sale all the time!) with huge baskets full of bras, arranged by size, of any shape and color, dozens of super excited women, and a few men noticeably ill at ease.
I wandered around a bit dazed, fishing here and there from baskets, not sure about my size since E.U. and U.S. sizes are very different when two robust black girls got a hold of me and measured my bust circumference with a measuring tape, discussing if I was a C or a D.
Eventually, we chose some bras. The young women accompanied me to the changing room entrusting me to a third girl who should have given me suggestions. I tried on the first one and it looks like it doesn't fit right. I mention this to the young woman attending the fitting rooms. She looks at me and says "Wait!" She goes away and comes back with a "veteran": a lady in her 70s, around 5 feet tall, who asks me to bend my back 90°, she loosens the shoulder straps, puts her hands inside the cups, and adjusted my breasts. She tells me to stand up. She stares at me for few seconds and decries: "That's ok!"
From that moment on, in a rush of frenzied rush, I take advantage of every sale, discount, and offer available.
Every woman, some more than others, has an irresistible attraction to lingerie. Even in Miami, where almost all the women wear shorts, worn-out t-shirts, and slippers, the fairer sex goes crazy for lace, crochet, sheer, baby doll, and petticoat. At Victoria's Secret, one can find everything. Well, almost everything: white cotton underpants, which remain a must, are missing. For all the rest, you will find anything; from spotted thongs to balconette bras Torquemada-style to the absolutely comfortable push-up bras that come in sizes from A to E in glowing colors.
But whether or not you want to buy (Prices are very good. Last time I was there, I was able to choose from seven assorted underpants in different sizes and models for $27 USD!), a walk trough Victoria's Secret is undeniably an approach tailored to women's behaviors, not only for Americans but for many tourists, too.
In Miami Beach, there are two Victoria's Secret shops: one in Lincoln Road and the other (my favorite) at 745 Collins Ave.