Food & Drink
11th Street Diner
June, 2014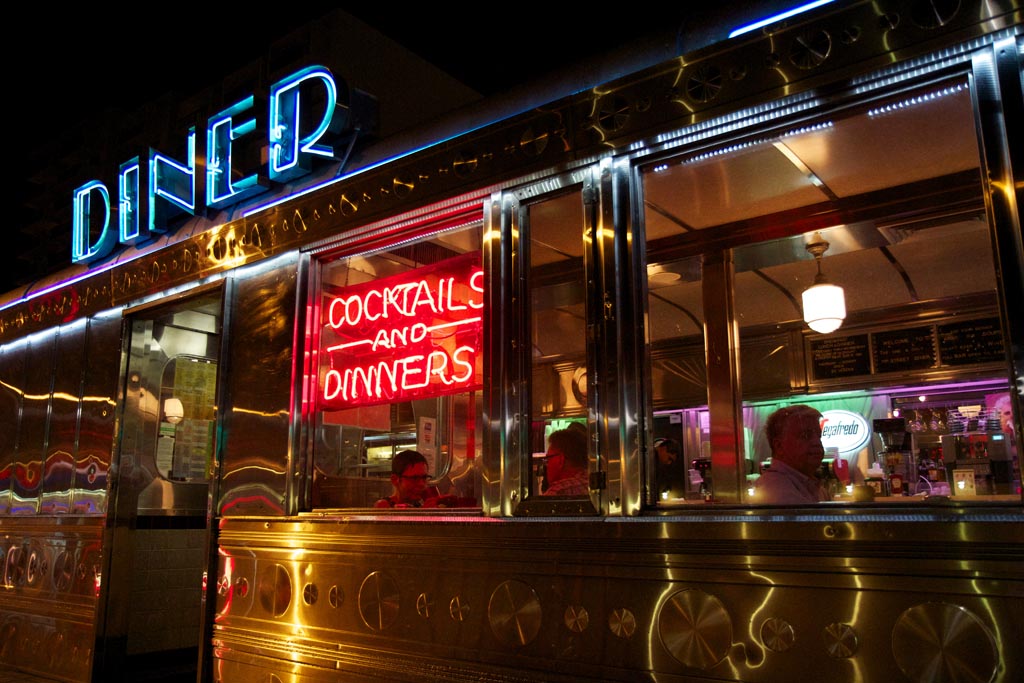 When we caught a hankering for an authentic American breakfast, our favorite place is on Washington Avenue and 11th Street: Diner, an American restaurant with a 50's mood. The restaurant is inside a 1948 Art Deco restaurant wagon that moved to Miami in 1992 after four years of service as a restaurant in Pennsylvania. The external walls are completely chrome plated and the interior is decorated with red leather seating and chrome plating on the tables and walls.
We usually sit outside. (The air conditioning, like the cuisine, is American-style: freezing!) We ordered the "worst", " what not to eat" food you can have as you wake up: scrambled eggs, crispy bacon, baked potatoes, pancakes swimming in maple syrup, French toast, waffles, and so much more. Delicious! We rarely surrender to the call of yogurt with honey, fresh fruit, and all that healthy stuff. However, if we have to commit a sin, we prefer to do it right! Of course it's not possible to have it every morning… just no more than three days in a row.
The coffee (American coffee, don't forget) is great, the service is precise and polite, the location is central but not messy (like the restaurants on Ocean Drive), and the prices are fair.
Of course, one can also go for lunch and dinner: the hamburgers are good as well as the New York strip steak, the fried chicken, the chicken wings (the spicy ones are better if you like spicy food), as well as the salads. The restaurant is open 24 hours a day. From 11 PM to 6:30 AM, there is no full menu but the food available can and will satisfy a late-night craving.
Please note that there is usually an 18% tip included with the bill…until August, when this custom will be stopped by law.3
For a menu and prices, please visit the 11th Street Diner