What to do
The magic of Coral Castle
June, 2014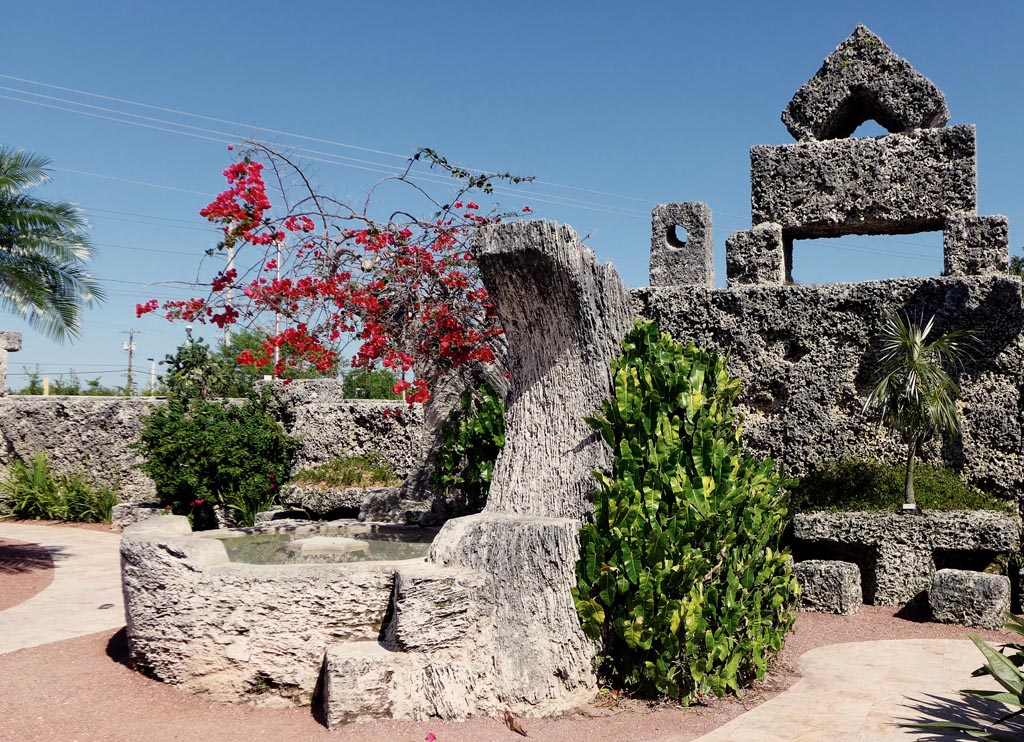 The things we do for love! Honestly, I have never known someone who did what Edward "Ed" Leedskalnin did: a 1,100 ton castle made of oolitic limestone.
He was 26 when, the day before his wedding, he was abandoned by Agnes, the 16-­year-­old love of his life. He decided to try to regain her love by building a castle just for her. He succeeded… in building the castle: Agnes never came back.
Ed was born in Riga, Latvia, became a naturalized American, and, in 1923, begun work on his castle in Florida City. He started with the sculptures then, in 1936, he bought ten acres of land in Homestead and, for three years, he moved what he built to his new residence fifteen kilometers away. In 1940, he began building the walls, each section weighs around 58 tons; the squared tower, one of two rooms where he lived in; the obelisk; the throne; the barbecue; the well; the mythical 9-­ton revolving door; and the rest of the structure. Everything was built without use of any kind of mortar.
The legend states that he did everything alone. No one knows how it could have been possible. Ed was around five feet tall and 101 lbs. We agree that the power of love can move mountains but… Certainly the fact his relatives were stonecutters helped since "knowing about levers and balances" was something he used to say. At any rate, many compare his secret to the Pyramids at Giza and Stonehenge. One thing is for sure: Ed could have made use of a power unit, very efficient tackles and pulleys, and studied quite a lot of electromagnetism for his work to take place. When he died in 1951, Coral Castle was inherited by one of his nephews, who sold the property to an Illinoisan family just before dying. From 1981 forward, the castle belong to Coral Castle, Inc., who turned it into a museum. The monument was registered in the National Register of Historic Places in 1894.
Curiously, Billy Idol's song "Sweet Sixteen", was inspired by Ed's dismal love affair: Ed always referred to Agnes as "his sweet sixteen."
This place is worth a visit, not only because for its wonder and rarity but for the sake of a lone man who realized an incredible feat.
The castle is open every day from 8:00 AM to 06:00 PM and offers a guided tour in different languages. There is a nominal fee of $15.00 UUSD for adults; $7.00 USD for children 7-­‐13 years of age. Children aged 7 and under may enter for free. More information is available at Coral Castle.