Things to know
Welcome to the MiamiTiamo Card
July, 2016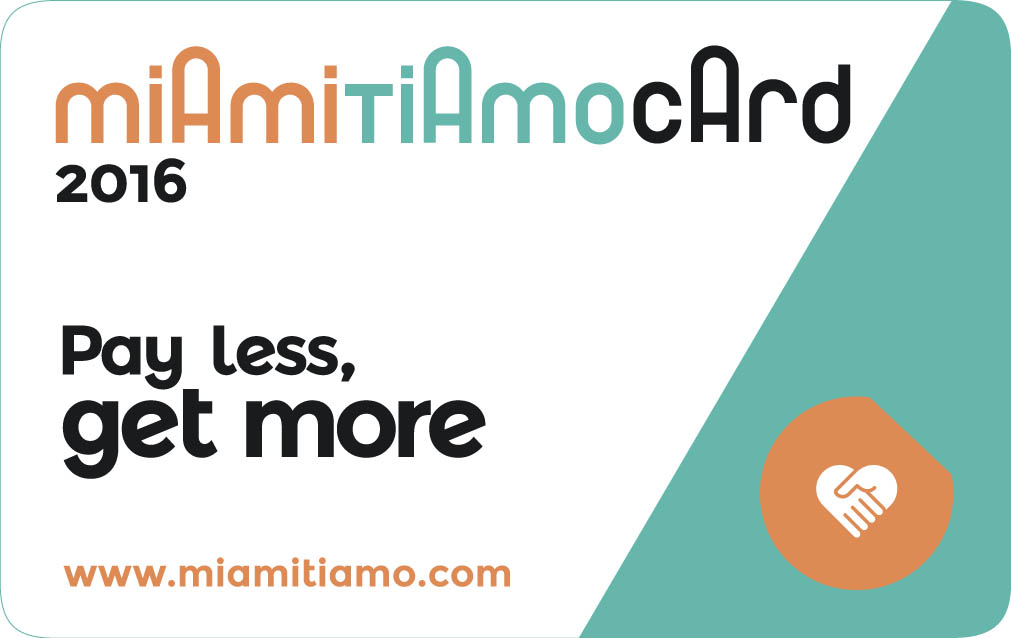 Here you have the instructions to use your Card in the best way.
We would like to remind you that the Card is valid for one calendar year (so e.g. the whole of 2016) and that it is transferable, so you can share it with friends and family.
When you go to bars and restaurants, all you have to do in order to get the discount is show your Card before you ask for the bill.
The only exception to this is at La Moderna, where you have to show your Card upon arrival to receive your complimentary glass of Franciacorta.
In order to obtain your discount when you rent scooters, cars, unicycle or book tours with Now Go Relax just show your Card upon booking.
If you want to book a language course with Language On, please mention the Card when you first get in touch with them either on the phone or by email.
When you book an appointent at Pasky House call +1 786 542 5850 and mention your MiamiTiamo Card.
If you want to book a Culinary Tour insert the promocode "MiamiTiamo" in the right box when you book online on their website.
As far as hotels are concerned:
Blanc Kara:
Book by calling +1 786 216 7205 or send an email to: reservations@blanckara.com quoting the promocode "MiamiTiamo". The discounted cost of the first night will be debted straightaway to confirm your booking. If you cancel your booking more than 2 days before the beginning of your booking the full amount will be refunded. The amount is non-refundable if you cancel less than 2 days before your arrival or if you don't turn up.
Freehand: book directly on their website: http://thefreehand.com/miami/
Once you have selected the dates and room type you'll lad on a Summary page – insert the promocode "MIAMITIAMO" (all capital) underneath "Enter promotion code" to get your discount.
All clear? I promise it's easier done than said
In any case, if you have any doubts or need clarifications just email us on card@miamitiamo.com and we'll get back to you as soon as possible.
Enjoy your holiday!
veronica e gianluca